In Celebration of Motherhood
As a family business spanning two generations, a special relationship between mother and daughter is rooted deep within Andiata's core values. This Mother's Day, we feature stylish mother-daughter-pairs to
bring you inspiring fashion stories.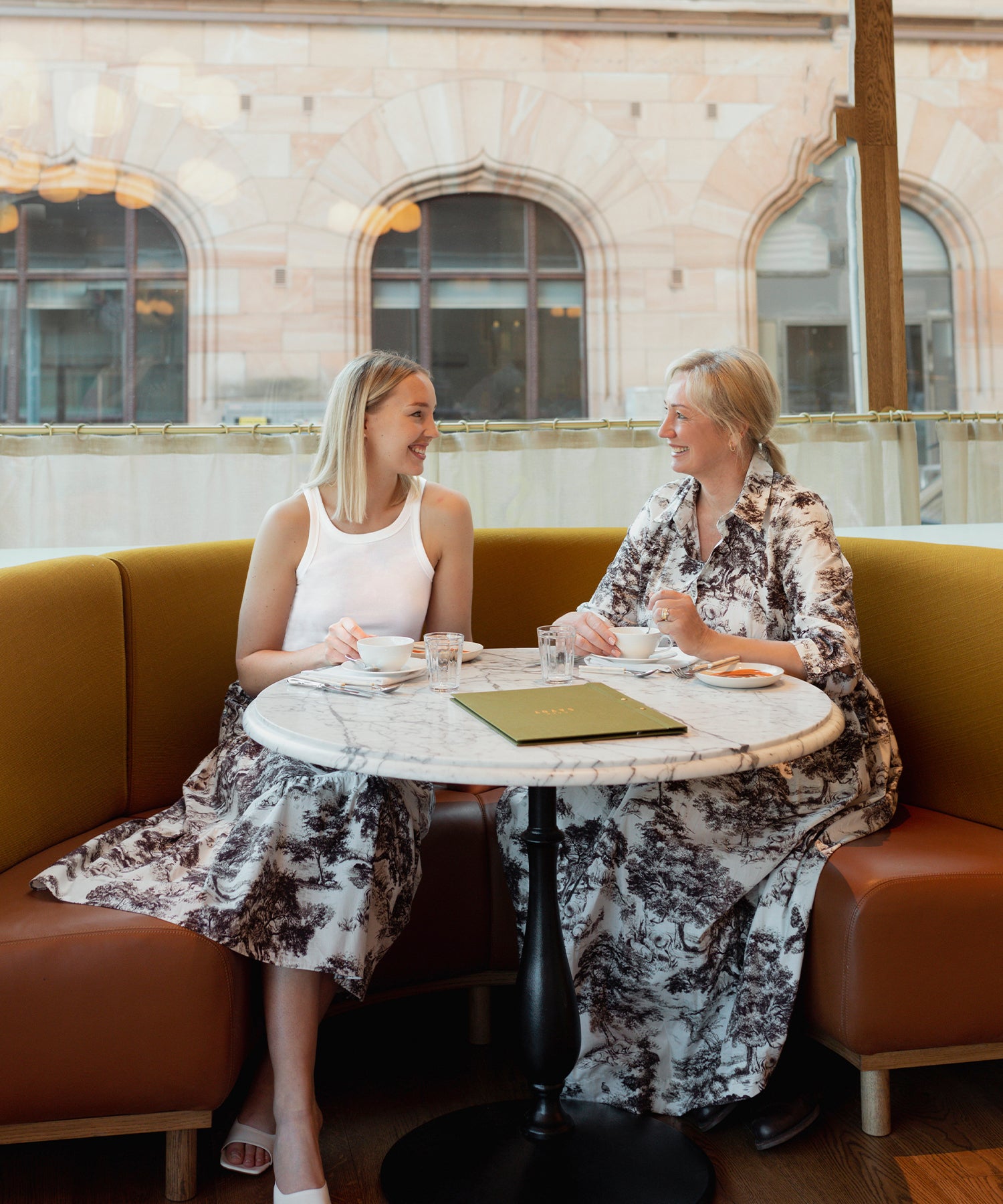 Mari & Lotta
Nordic minimalism with a twist is an aesthetic that describes both Mari's as well as her daughter Lotta's style. "My mother (and her wardrobe) has always had a big influence on how I dress. From her, I inherited the love for earthy tones and classic Scandinavian style with a twist." -Lotta
Easy-to-wear pieces with neutral colors and clean silhouettes form the basis of a functional day-to-day wardrobe – with contrasting textures and detailing to keep it interesting. "In my free time, at home and visiting the archipelago, my style follows the same tried and tested patterns – the only thing I like to make a statement of are "the sun robes", i.e. the flamboyant dresses worn at resorts, with a bit of sparkle thrown in." -Mari
Mari and Lotta both share a love for vintage pieces and stories behind them – beloved fashion items that age gracefully and can be passed on from mother to daughter. "It's fun to recycle old clothes. Me and my mother both agree that one should never throw away quality clothes, rather store them to be used again in the future when the style again becomes relevant." -Lotta
Discover our Sinne Dress and Wylee 90 Skirt – the combination of voluminous cut and a striking yet elegant Toile de Jouy print works well for all occasions.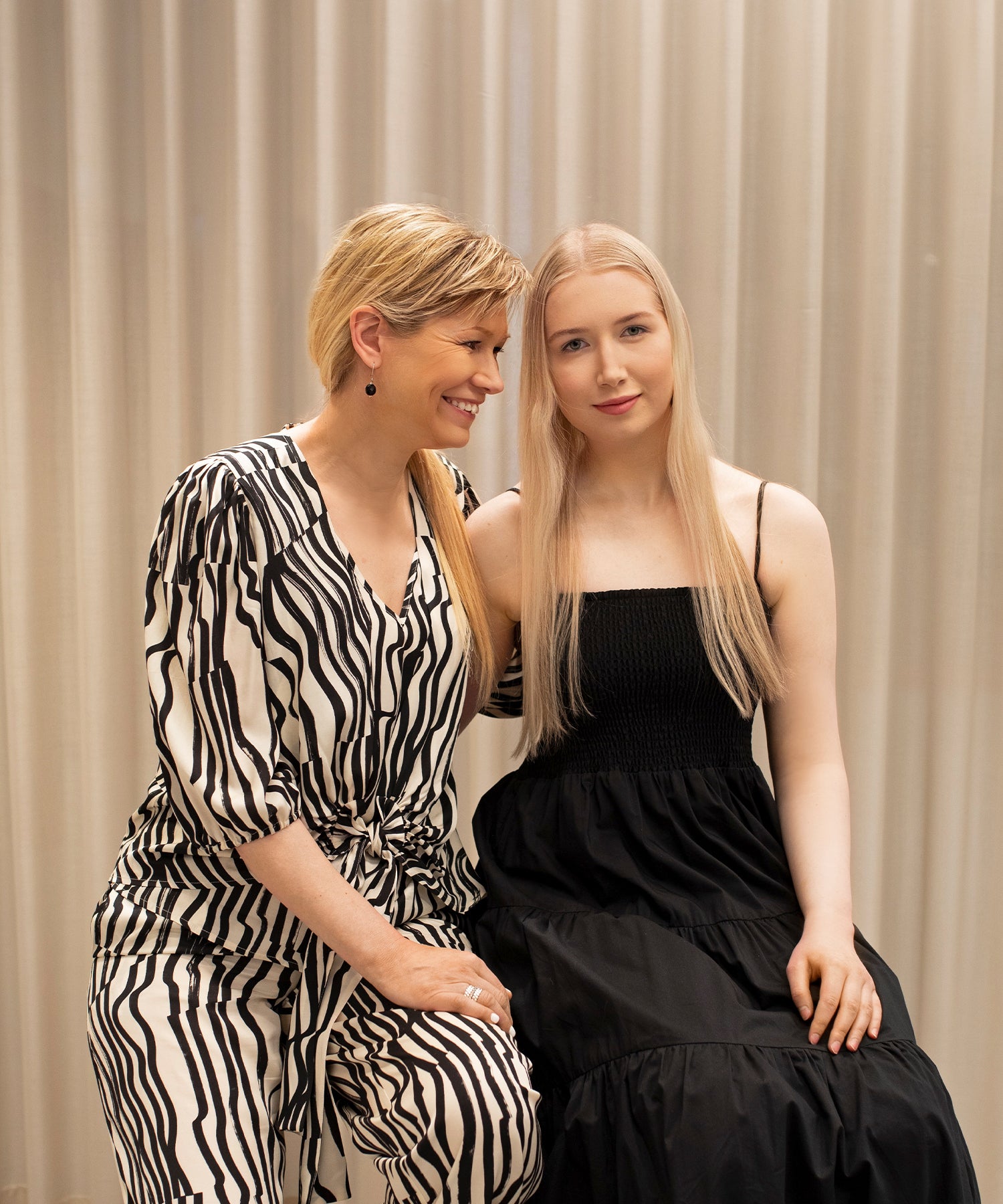 Virve & Vivica
Virve describes her style as timeless and functional – a sentiment shared by her daughter Vivica.
"By combining contrasting materials and colors from different seasons as well as repurposing garments meant for a different use, I get versatility and interesting combinations. Andiata's clothes have the status of a classic in my closet – I have found so many wonderful and long-lasting clothes from the brand over the years. The quality of their garments can be seen not only in the durability of the material and how gracefully it ages, but also in the timeless design – both attributes contribute to the product's long life cycle thus leading in concrete sustainability." -Virve
A capsule wardrobe of structured blazers and jackets with well-fitted trousers and dresses is easily adaptable all year round – styled with accessories, jewellery and occasional splashes of color to keep it interesting. Neutral color palette combined with high-quality materials such as linen, silk and wool keep even the more understated pieces looking polished for years to come.
"I live by the principle to only keep in my wardrobe the products I use and like – if the size or fit of the clothing no longer suits me, I simply pass it on; sometimes to my daughter or other family member, but mostly I donate my old clothes. It gives me joy to give an old garment a new life and at the same time make a contribution towards sustainability." -Virve

Create a monochromatic statement with Vilja Blouse and Rochelle S Pants in a striking graphic print. The Veda Dress is the ultimate dress for warmer weather – a maxi length with a flowing hem and slim shoulder straps creates a delicate feminine shape.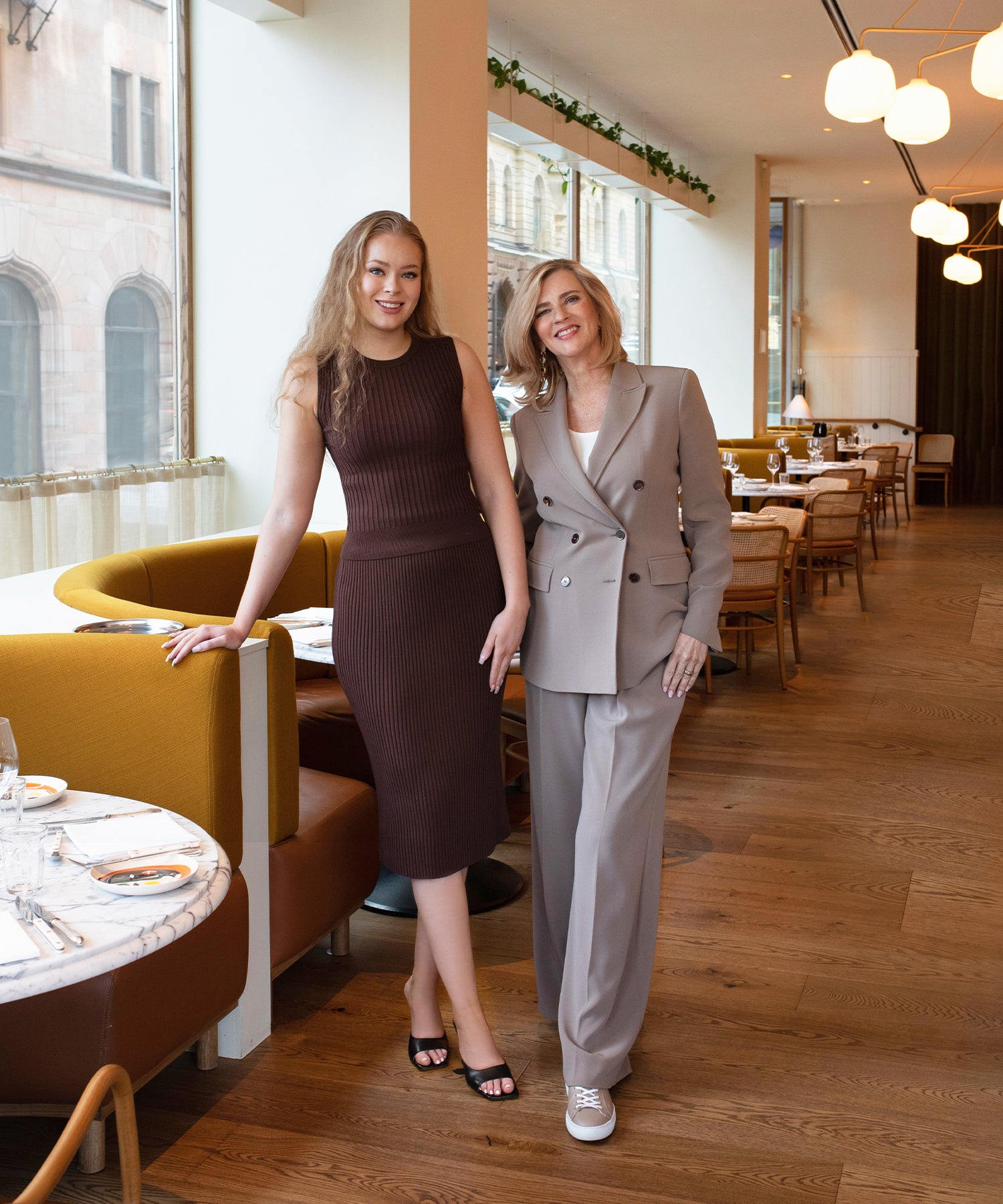 Piia & Iida
When choosing what to wear, Piia and her daughter Iida consider the garment's comfort and wearability above all else. "In everyday life, I prefer sporty and comfortable outfits. However, I also like to mix it up occasionally and dress up in a more feminine clothing – this Andiata skirt immediately felt like my own and I love the earthy tones in it." -Iida
Both describe their style as timeless yet contemporary – classic easy-to-style pieces such as blazers, tailored trousers and leather pants get a fresh look with sporty elements. "Since childhood, personal style has always had a strong significance to me. I grew up admiring my mother's style and outfits -  the purchases were carefully considered and garments worn for a long time. I rarely shop by impulse and even now there are pieces in my closet from years ago – these staple pieces bring me joy and will always remain in use." -Piia

For a chic, well-tailored look, combine Traci 2 Blazer and Kamille 3 Trousers in a neutral taupe tone. A streamlined silhouette is achieved with combining Ilar Rib Knit Top with Edmee Rib Knit Skirt in a delicious chocolate brown hue.