Materials & Care
By taking care of your clothes in the right manner you can ensure your clothes have a significantly longer life span. Different materials and pieces of clothing require different care. Therefore, we have gathered a guide and tips on caring for your clothes, for them to remain in great condition for as long as possible.
General care instructions by material
Avoid washing your silk clothing too often. Always check the care label if the clothing requires hand wash or a professional clean only.
Most times, airing out or steaming your silk garment is enough to freshen it up.
Do not soak or leave your silk garments in the sunlight for a long period of time
If machine washable, wash with similar colors on a delicate program. Always use a laundry bag and a specific detergent made for silk.
Air dry in room temperature on a clothing hanger.
Iron the garment inside out with low heat or the silk setting on your iron, or carefully use a steamer.
Cotton is often machine washable. Some cotton garments may require a gentle wash cycle.
We recommend for you to wash your cotton garments with similar colors.
Cotton can handle higher wash temperatures, but always be sure to carefully check the care label before washing. Especially in case if the fabric is a cotton blend or has a print.
After washing, reshape the garment and air dry on a hanger or drying rope. Be sure to check the care label if the garment can be tumble-dried.
Iron with the cotton setting or steam.
Always check the care label if the clothing requires hand wash or a professional clean only. Some linen garments are machine washable, while others require professional cleaning.
Only use gentle wash programs and wash with similar colors.
Let linen garments air dry on a hanger and for heavier garments dry flat for example on a fresh towel. If the garment is heavy it´s better to dry flat to avoid any stretching.
Do not tumble dry linen.
Iron with the linen setting or use a steamer.
Viscose is a cellulose-based fiber. Some shrinkage when washing is typical for this material.
If your viscose product allows washing in a washing machine, make sure to wash in a low temperature and choose a gentle wash cycle. Re-shape the clothing while wet to maintain its shape.
In case washing with water is not allowed, take your product to professional cleaning, where it can be cleaned either by wet cleaning or dry-cleaning, depending on the garment's care instructions.
As different viscose fabrics may require different cleaning methods, always remember to follow the wash and care instructions on the garment's own care label.
Avoid excessive washing of your wool garments in order to give them a longer lifespan. Instead of washing, air out your wool garments after each use, for example on a hanger.
Use a garment brush to freshen up the fibers of your wool garment.
Always check the care label whether the garment requires a professional clean or is hand wash only.
If the garment is machine washable, use a specific program for wool, or a gentle program. Wash with similar colors and use a specific detergent made for wool.
Let air dry in room temperature on a hanger or lay flat on a fresh towel to dry to avoid stretching.
Carefully iron on a steam setting or use a steamer. Avoid ironing completely dry wool garments.
We recommend for you to regularly air out and hand wash your Andiata cashmere garments.
Use lukewarm water to wet the garments thoroughly. Only use a mild detergent or a detergent specifically made for wool. Remember to rinse thoroughly.
Reshape the cashmere garment after washing while still damp and lay on a fresh towel to dry. Finally, gently roll the garment into the towel, to get rid of excess moisture.
Pilling is natural in knitted garments and is often caused by friction. Cashmere pills only once. As the cashmere fibers of Andiata are longer, the Andiata cashmere garments will not pill again after combing. You can comb your cashmere garments with the Andiata cashmere brush.
Caring for different kinds of garments
Blazers are often sewn together from multiple pieces of different fabrics including the lining and shoulder padding. This is the reason why blazers usually cannot be machine washed and, in most cases, need to be professionally cleaned. Be sure to always check the garments care label for the proper instructions.
Airing out your blazer after every use reduces the need for excessive washing or cleaning. Depending on the material of your blazer, you can also brush it with a garment brush to tidy it up.
Do not iron your blazer, but rather steam it in order to get rid of wrinkles and freshen up your garment.
Store your blazer on a wide hanger to keep it looking sharp.
Avoid washing your denim products too often, as washing will fade the color of your jeans and wear out the elastane in the fabric. The wearing out of the material will affect the look and fit of your jeans.
Instead of washing, air out your denim in between washes. If your jeans have stains, you can clean them individually with a damp cloth.
When washing your denim garments, turn them inside out and check that the pockets are empty and that the zippers and buttons are closed.
Hang your jeans to air dry, and never use the dryer on denim products.
Tulle skirts cannot be washed at home and tulle garments require professional cleaning. Lace garments can be gently washed by hand, but we recommend professional cleaning for them as well.
Store tulle and lace in airy space, so that they do not wrinkle or crease. Both tulle and lace can be steamed if they wrinkle. However, we do not recommend for you to steam pleated tulle, for the pleating to remain in shape.
Protect your leather and suede products with specific care and protection creams.
You can clean your leather products by wiping off dirt with a damp gentle cloth. If the product needs intense cleaning, we recommend for you to get the product professionally cleaned with a specific leather wash.
Do not store leather products in direct sunlight, to avoid fading and deterioration of the material.
Store your down pieces in room temperature in a dry area.
In case you have not used your down garment in a while, fluff it lightly before wearing for it to regain its volume.
To avoid washing your down garments too often, you can air them out regularly. When your down garment needs washing, we recommend for you to get it professionally cleaned. Clean down insulates the cold and keeps you warm better than un-washed down.
If you wash your down garments in a washing machine, remember to always check the care label for the washing temperature. 30 degrees Celsius is a safe choice in case in doubt. There should be plenty of room in your washing machine. We recommend for you to use only 1/3 of the normal amount of detergent than normally when washing down. Before washing, thoroughly wet your down garment, close all zippers and buttons and remove any possible accessories. Select a program with a long rinse and spin.
You can dry your down garments in the dryer with a few tennis balls to fluff up the garment as it dries. Remove the down garment from the dryer a few times during the program and fluff up the feathers to avoid them getting squashed.
Use this same process when air drying. The drying program usually takes a few hours in the dryer. By air drying, the process takes a few days.
Remember to always get your down pieces cleaned before storing. Down is stored best in a spacious box, or a garment bag to prevent the feathers from clumping.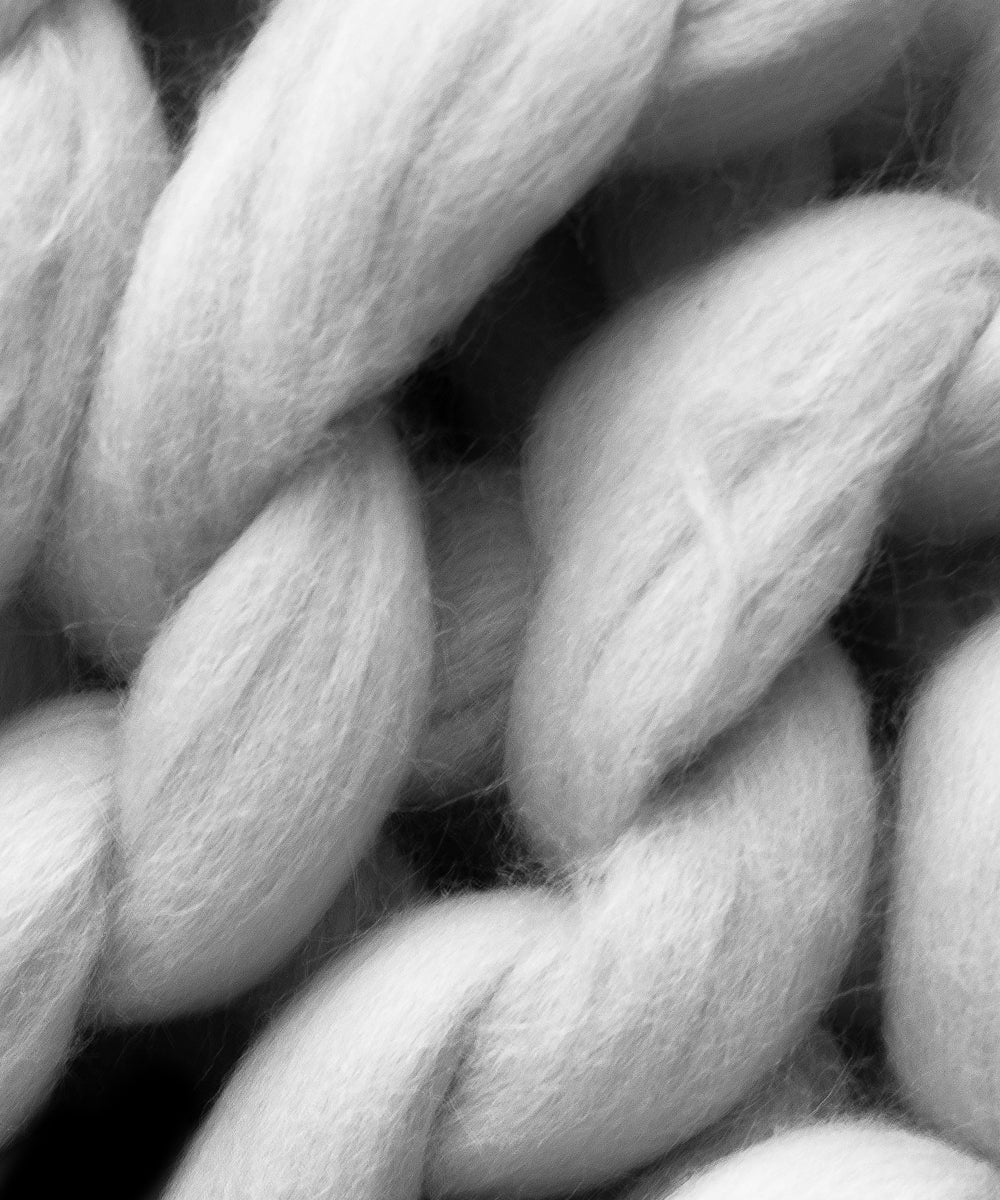 What to consider when washing your clothes
Always follow the care label instructions as they are meant for the specific products and written by professionals.
Wash only dirty clothes to save energy, water, and the materials longevity. Wash only full loads of laundry and sort the clothing by color and wash cycle. However, remember that with delicate wash cycles the washing machine should not be full, allowing more space for the clothing.
If you wash your clothes in the washing machine, tie any loose strings, and fasten the buttons before washing in order to prevent the material from stretching or snagging.
If you wash clothes that are made from thin or delicate fabrics, put them in a wash bag before machine wash. 
Remember that the temperature stated on the care label is the highest temperature that piece of clothing can take. Also, washing in lower temperatures is friendlier to the environment.
The two most gentle washing programs are the wool and silk programs. These programs are suited for the most delicate garments as well.
Avoid using the dryer and ironing your clothes as much as possible to save energy and give your clothes a longer lifespan. Instead, let your clothes air dry and steam them.
How to store your clothes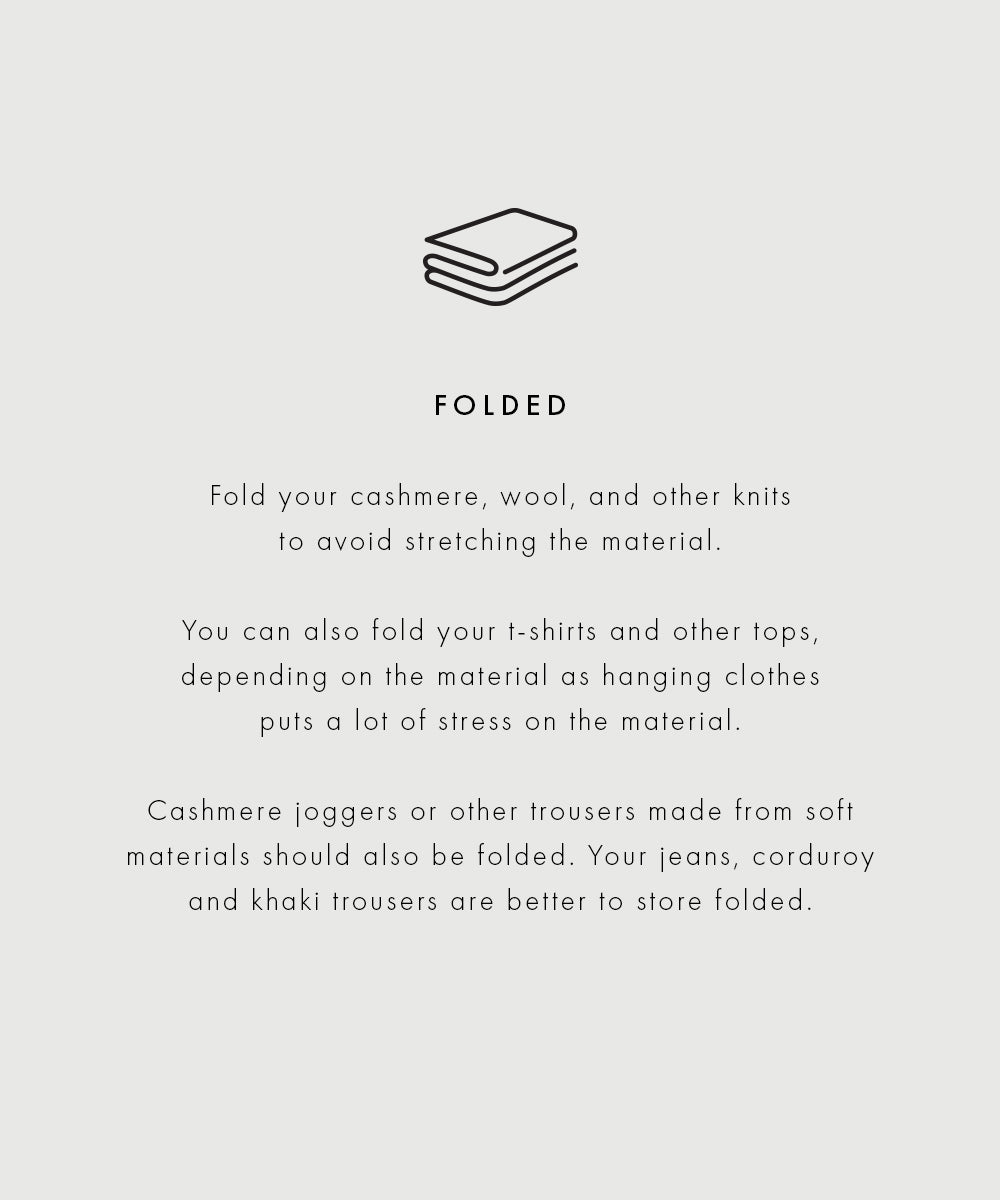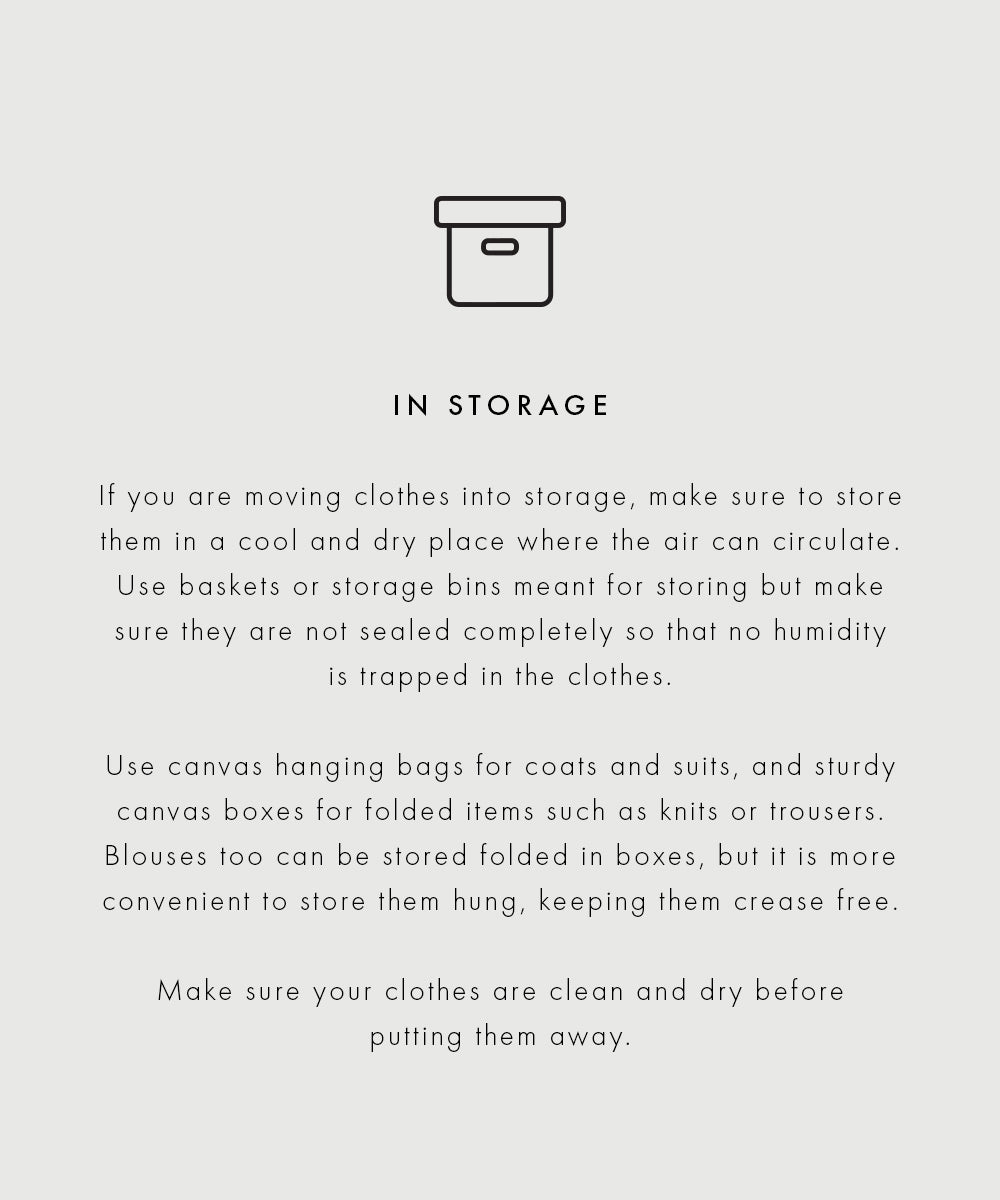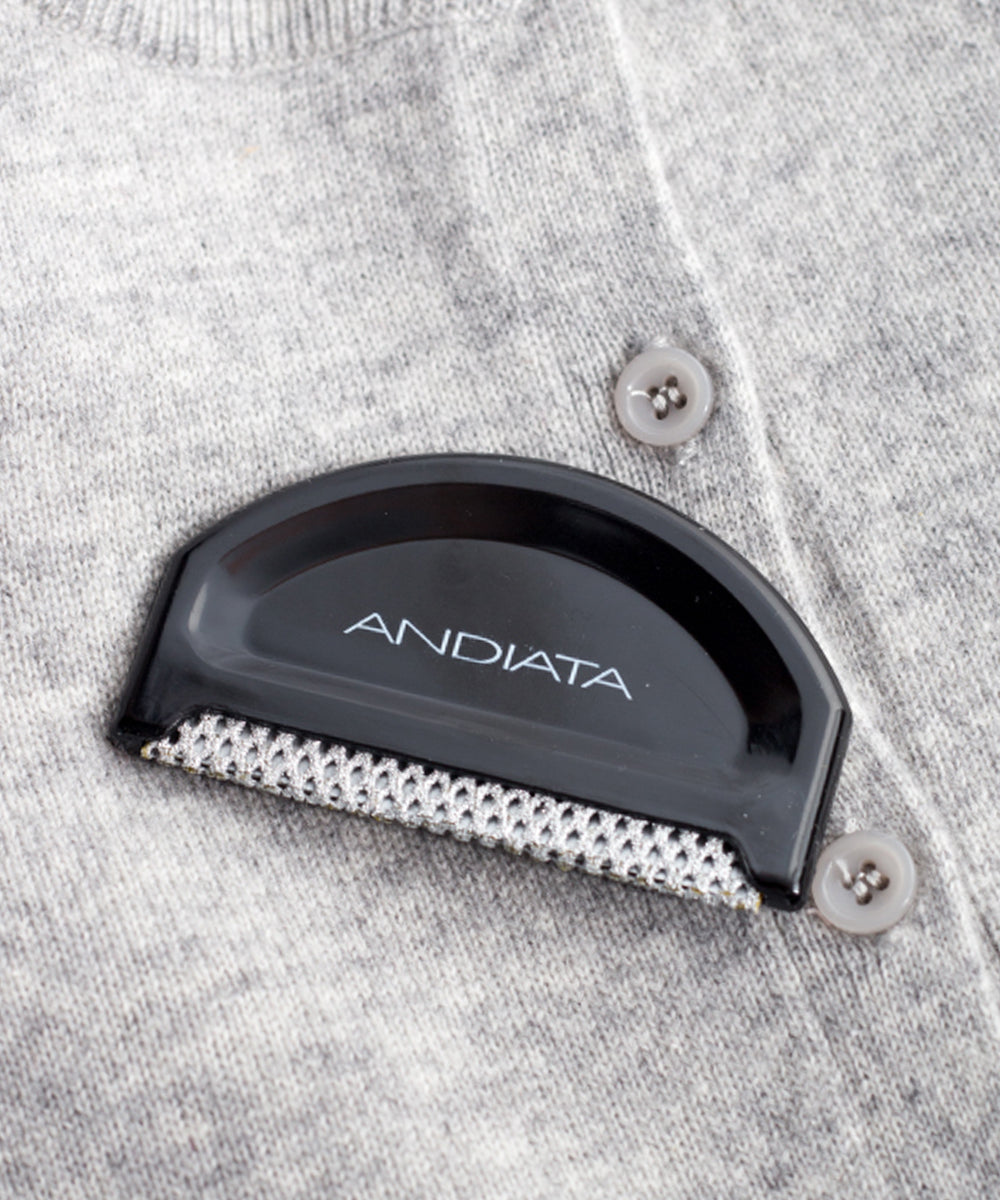 How to give your clothes a new life
REPAIR
Before throwing old clothes away, check if they are repairable.
Buttons and zippers are easily replaceable. Use the spare matching button or replace all buttons to fix your garment or to give it a fresh new look. Zippers are easily fixed at your local cobbler.
Holes and tears can be fixed by a professional tailor or by yourself if you have the know-how.
If you want to give your clothes a new look, you can always alter them to your liking for example by cropping the hems of your jeans or trousers, or altering the silhouette of your old coat at a seamstress.
RECYCLE
If you have no use for your clothes, you can sell, donate, or gift your unused clothes to give them a new life.
If your garment is beyond repair, remember to recycle it properly at your local recycling station.